Making the best choice for your group is critical. Whether it's colleges and clients or family and friends, this holiday choose the best bus for your transportation.
Holiday Coach Lines offers top of the line Charter Buses, the safest motor coaches used in the transportation industry today. Our maintenance program is held to the highest factory specifications, including critical items such as brakes, tires, and steering, as well as cleanliness, baggage area and entertainment system.
Here are a few important questions to ask before chartering a bus: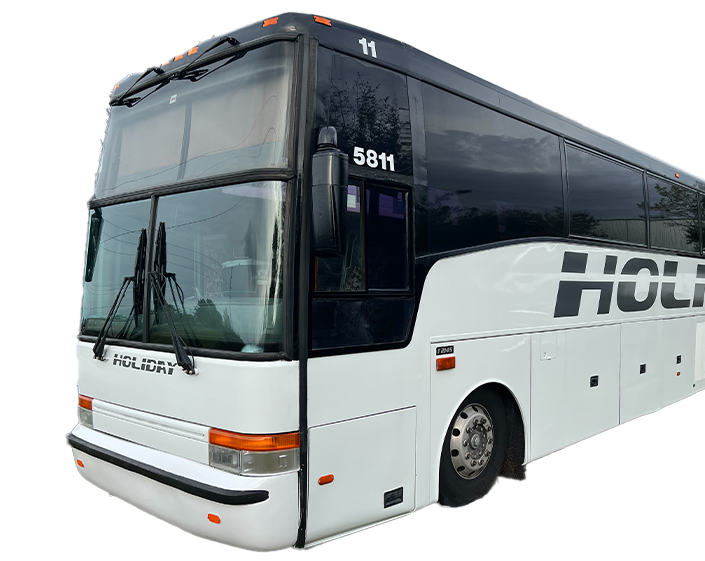 Does the price of the quote include everything?
Will there be any additional fees? How many destinations does it include, if it takes longer than expected, will there be an extra fee, do I need to tip the driver or is that already included?
Is the company reputable, fully licensed and do they have the appropriate insurance?
It's in the best interest of your group to make sure the transportation service is dependable and reliable! You don't want everyone upset at you when the bus left everyone stranded on the highway and the driver doesn't know what to do.
Any company who is evasive about revealing this information should be avoided!
What can be brought on the bus?
Inquire if things like food, audio devices and alcohol are allowed.
Holiday Coach Lines gives you the peace of mind all your transportation needs will be taken care of, with the best comfort and value, and everyone arrives safely at their destination.
There is soo much more to traveling than just getting off a plane after a couple of hours sitting cramp quarters looking at the seat in front of you. There is so much more to traveling then just getting there!
The incredible colors of fall isn't something you can truly appreciate from an airplane, the connection with the environment and the interaction between old friends as well as new ones you make along the way.
Forget the holiday traffic, crowded airports, waiting in line, cramped seating and transportation once you get to your destination. Imagine the great memories everyone will make as they enjoy spending time together as your personal chauffeur safely drives everyone on an adventure of a lifetime, priceless!
Holiday Coach Lines specialize in group transportation and will work with you to meet your needs and your schedule. We have locations all over Florida; from Jacksonville all the way to Miami, so call us today at 1-800-270-9093.